Culture Lighting has experienced electricians who can provide turnkey services that include sourcing, delivering, and installing a wide range of lighting products.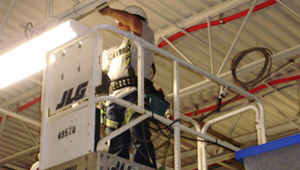 Using Culture Lighting's electricians eliminates the need to hire outside electrical contractors when additional manpower is needed to complete larger lighting projects. For businesses that do not have an electrician on their staff, our service techs can perform routine scheduled lighting maintenance and manage larger projects in your facility.
Our electricians are available to do …
New Light Fixture Installation
Our electricians will replace old lighting or add new lighting anywhere in your plant or commercial office building. Letting Culture Lighting manage all aspects of these projects saves time and money.
Light Fixture Repairs
Let us repair broken light fixtures and replace burnt out lamps for both interior and exterior lighting. This includes parking lot lights, outdoor lighting and high bay lights inside your facility.
We will troubleshoot, install, repair or replace ballasts, breakers, lamps, fixtures, photocells, switches and timers. Our bucket truck allows us to service hard to reach and difficult to access areas outdoors.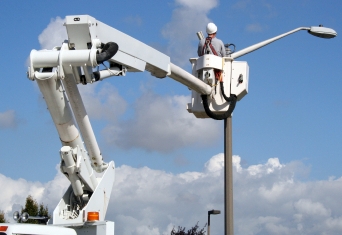 LED Lighting Conversions
Culture Lighting can manage all aspects of converting existing lighting to LED lighting. Convert outdoor lighting, indoor security/safety lighting, and hard to reach lamps to LED equivalents and save on your electric bill and maintenance costs.  With available rebates your investment has a quick return on investment.
Lighting Maintenance
Is it time to relamp your complete facility? Let Culture Lighting supply the additional manpower, along with the lamps. This makes your job easy and ensures everything is done correctly and on time.
Take Advantage of Our Turnkey Services
Utilizing a Culture Lighting electrician to handle all aspects of your maintenance and retrofit lighting needs makes any project easier to complete.  By having one team responsible for your lighting needs, or supplementing your staff, allows your facility to run more efficiently and safely.
Our service techs will continue to adhere to all CDC, state and local COVID 19 guidelines when visiting a customer's location.
We look forward to being there when you need us.  Just call ….  317-471-1129.