Ultraviolet (UV) lighting technology is a proven way to eliminate many airborne and surface contaminants. Using the combination of LED UV germicidal light bulbs with a line voltage occupancy sensor, rooms can be effectively and safely disinfected.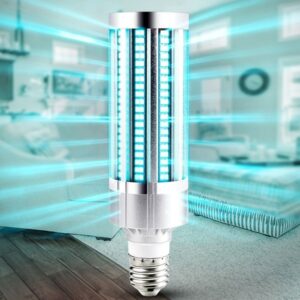 LED UV Germicidal Light Bulbs
The germicidal light eliminates contaminants using ultraviolet light.  It works well in offices and homes to reduce germs and pollutants on surfaces and in the air working similar to the sun's rays.  (It has not been tested with the coronavirus.)
Features
Made of high quality LED UVC chips. Up to 50,000 hour lifespan.
Available in 30-watt; 60-watt lamps with E26/E27 base; and T8 tube lamps
Irradiates up to 500 sq. ft.
Easy to install: Screw it into the E26 socket like a regular light bulb
100-Volt to 277-Volt
Diameter 2.65″ X 7.48″ High
Caution:
People, animals and plants must not be in the area when the UV light is in use.  After using the light, ventilate the room for 30-45 minutes.  The length of time needed to disinfect a room depends on its size.  Large rooms up to 500 sq. ft. will take about 60 minutes.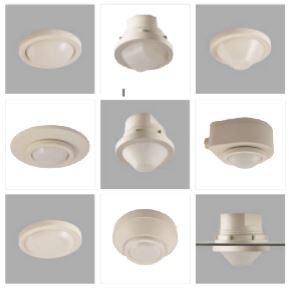 Combine Occupancy Sensors with UV Lights
To prevent anyone from entering a room when a UV light is operating, it is important to install a line voltage occupancy sensor with control logic that works in reverse of typical occupancy sensing control. This unique occupancy sensor turns off the germicidal light when someone enters the room. This sensor employs a cutting edge infrared sensor to provide omni-directional sensing of an occupant's presence and movements.
Other features include:
Omni-directional quad element infrared sensor
120/277VAC with voltage free normally closed dry contact output
Accu-Set potentiometer setting TIME and LUX
Recess, surface, or J-box mounting available
Multiple changeable lens options
Have Questions on How to Make this Work?
Let the lighting specialists at Culture Lighting help you choose the lamp and occupancy sensor that work in your application.  Just give them a call at 317-471-1129.