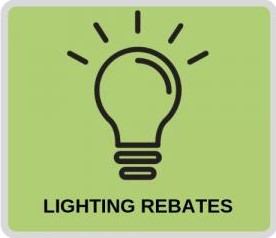 Rebates by Indiana Power & Light and Duke Energy are typically adjusted on an annual basis.  IPL has just released it latest rebate schedules which continue to incentivize businesses to update existing lighting to more energy efficient LED lights.  Duke Energy's updated rebate list will be out in early spring.  Current 2020 Duke Energy rebates remain in effect until then.
Rebates Slowly Being Reduced
The trend continues of select rebates being reduced each year and certain lighting categories removed from the schedules.  This year Duke Energy discontinued rebates on A19 LED light bulbs used primarily in residential housing.
Significant Savings Continue on Select Products
Culture Lighting is still offering very competitive prices, once rebates are applied, for select products.
2×4 LED Panel Drop in Fixtures
Ideal for offices, conference rooms, hospitals, lobbies, hotels, classrooms, workshops, cafeterias and other common areas.
LED High Bays
Need improved lighting in warehouses, industrial workshops or large commercial spaces? LED high bay lights work well in areas with high ceilings and open layouts.
100 Watt Wall Packs
Wall packs are well suited for exterior lighting of commercial buildings offering security and safety for employees and visitors.
Act Now for Greatest Savings
Upgrading to energy-efficient lighting has never been easier or more affordable.  Take advantage of these rebates and install high-efficiency lights and lighting controls at a fraction of the cost – and reduce your energy usage by up to 30 percent.
Custom Incentives
IPL and Duke Energy both offer custom incentives for reducing energy usage on larger projects.  Culture Lighting's experienced lighting specialists can help determine how these incentives might apply to your business.
Rebate Assistance
Culture Lighting has extensive experience working with IPL and Duke Energy rebates and is happy to help our customers take full advantage of all available discounts.  Send us an email request at customerservice@culturelighting.com or just give us a call at 317-471-1129.