New CCT Dimmable LED Flat Panel Lights from Culture Lighting allow you to create a work environment that meets the exact needs of your workforce.

CCT and Brightness Adjustable LED Panel Lights

This innovative technology gives users the ability to adjust BOTH the LED panel's color temperature settings, and to dim the lamps using a remote control device.  These easy to install LED flat panel lights require no extra wiring.
CCT Adjustable LED Lights
With the touch of a remote control these flat panel lights change color temperature from warm to cool (3000K, 3500K, 4000K, 5000K).  Set a rooms lighting feel and accommodate individual preferences with a click of a switch.
Dimmable LED Lighting
These flat panel lights allow brightness dimming from 25% to 100% either by step or continuous dimming.  Room and individual workstation light levels can be adjusted by remote control to fit the specific needs of different individuals or work areas.
These LED panel lights do not require additional wiring for the dimming feature.  This reduces installation wiring time by up to two-thirds when compared to other dimmable lighting options.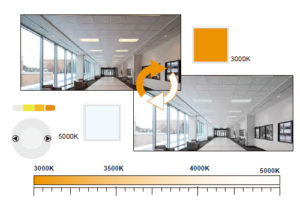 Group Lighting Control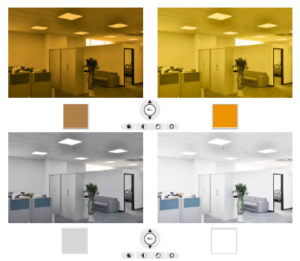 Each remote device can control up to four lamp groups with each group having an unlimited number of lights.  Imagine being able to adjust your lighting preferences in multiple areas of your office to accommodate different lighting conditions in each area.
Specifications
Available in 2×2; 2×4 and 1×4 panel sizes
CCT adjustable from 3000K to 5000K
0-10V dimmable, 2.4G wireless
100-110 lumens/watt
Input voltage: 110 -277V AC, 50Hz – 60Hz
Power efficiency: >90%
Beam angle: 120 degrees
DLC, IP 40, UL with isolated power supply
Working Life-span: 50,000 hrs
5 Year Warranty
CCT and Brightness Adjustable LED Panel Light Pricing
2×2 ft. panel       CULT-40W-66-28-CCT-07     40W                $130.00 ea.
1×4 ft. panel       CULT-40W-123-28-CCT-07   40W                $130.00 ea.
2×4 ft. panel       CULT-50W-126-28-CCT-13   50W                $140.00 ea.
Product and Installation Information
For additional product and installation details please refer to our CCT LED Panel Specifications.  Or feel free to give us a call at 317-471-1129.

For More Info on LED Lamps and LED Retrofits
With so many options sometimes finding that new or replacement light bulb can be a challenge.  If you don't see what you need, or have questions, please call 317-471-1129 or EMAIL US with your questions.