There are service calls and then there are service calls of a higher nature.  Recently Culture Lighting was asked to retrofit a number of 400 watt metal halide lamps that were in the ceiling of St. Mary's Catholic Church in Indianapolis.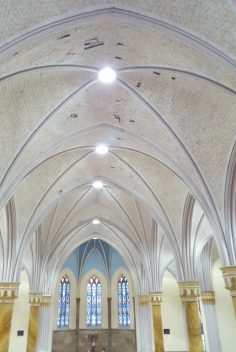 Going to Great Heights to Serve Our Customers
Replacing these metal halide lamps with 150 watt LED retrofit kits presented a special challenge.  These lights, which are several stories above the sanctuary floor, would have been difficult to service from below.  Fortunately access to the lights was through the attic.  Although this made it easier in some respects, the attic space was tight and warm.
Long Lasting LED Replacement Lamps
Replace those hard to service lamps that require "extra" maintenance time with LED lamps that operate for over 50,000 hours. By not having to replace these lamps as frequently maintenance costs and time are reduced substantially.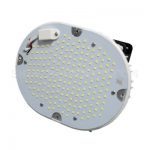 LED Retrofit Kits For Many Applications
These energy efficient LED retrofit kits use 67% less energy compared to the 400W HID's previously installed. LED lighting can be used in a variety of applications including gymnasiums, warehouses, street lighting and churches.
A Heavenly and Historic Site to See
St. Mary's Church was completed in 1912 and is located on the corner of New Jersey and Vermont streets. Designed by architect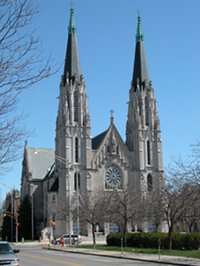 Hermann J. Gaul it is modeled after the Cologne Cathedral in Germany. The church is listed on the National Register of Historic Places.
Have a Special Lighting Project?
Culture Lighting's lighting specialists are happy to review any of your lighting maintenance service requirements …. regardless of their degree of difficulty.
Email us at customerservice@culturelighting.com or give us a call at 317-471-1129. We are happy to help!