Downlights (or can lights) are used throughout homes and offices to provide flood and spot lighting without having a fixture extended below the ceiling.  With so many downlights in use converting them to LED technology can save thousands of dollars in reduced energy bills.
Four Easy Ways to Convert
So here are four ways to convert your incandescent downlights into dollar saving, environment saving LED lights.
BR30 LED Lamps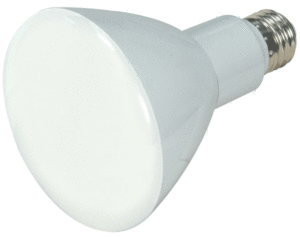 What could be easier than unscrewing the old lamp and inserting a new high efficiency LED lamp?
Direct replacement for 65W incandescent lamps uses only 8 watts
Dimmable
Long life, 25,000 hours
Warm light, 2700k
Available with E26 or GU-24 base
UL damp location rating
1 Year Warranty
LED Downlight Retrofit Kit for Residential Use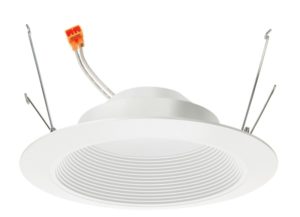 LED Downlight Retrofit kits are inexpensive and make upgrading your existing recessed fixtures nearly as simple as replacing an incandescent lamp.
These fixtures provide high-quality light and energy savings of as much as 85%.
Fits 4", 5″, 6″ and 8" standard recessed
housings
Color Temp: 2700K, 3000K, 3500K, 4000K
120V AC, high quality driver, dimmable
Available in different trim styles, colors and baffle colors
UL Listed for damp locations
CA Title 24 Compliant
Meets ENERGY STAR requirements
5-year limited warranty
LED Downlighting Retrofit Kits for Commercial Use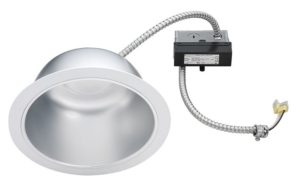 Commercial LED Retrofit assemblies are the ideal way to upgrade existing incandescent, CFL and HID commercial housings to high-performance LED lighting.
Installation is fast and simple with the unique quick disconnect feature from the junction box.
2400 lumens using 27.5 watts
Rated 50,000 hours
Aluminum trim with regressed diffusing lens
White or haze finish
Dimmable
UL Listed / CA Title 24 Compliant
Meets ENERGY STAR requirements
5 year warranty
LED Recessed Lighting for New Construction, Remodeling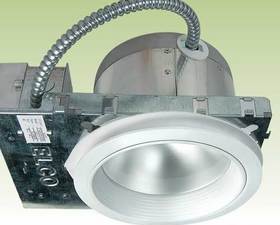 Installing LED downlights when building new or remodeling is a great way to incorporate energy efficiency right into your new space.
With lamp expectancy of well over 30,000 hours, they require little or no maintenance and are 80% more efficient than halogen and incandescent lamps.
LED Downlights: 4", 5" and 6"
Multiple housings available for use in insulated ceilings and single wall construction
Housing accommodates various ceiling thicknesses
Quick connect terminal connector for use with LED inserts
Flanged metal trim ring, designed to conceal ceiling cut-out
Multiple LED inserts and trims sold separately
Pre-wired junction box provided with 1/2″ and 3/4″ knockout through branch wiring
Corrosion resistant stamped galvanized steel mounting
IECC Compliant
UL listed for damp locations, feed through and direct contact with insulation
Need More Information
If you would like to learn more about your LED lighting replacement options, please contact Culture Lighting at  317-471-1129 or email us at customerservice@culturelighting.com.