99.9% EFFECTIVE AGAINST COVID-19 AND OTHER CORONAVIRUSES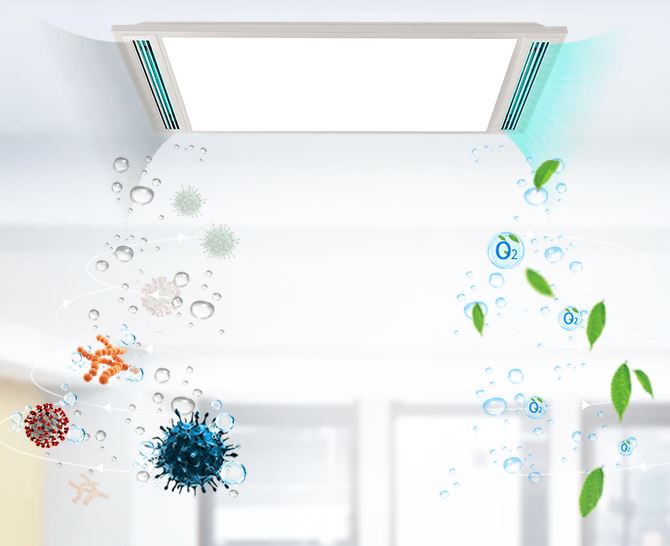 As we continue to find ways to minimize the impact of COVID 19 at our homes and workplaces, new UVC lighting systems are being introduced designed to eliminate the COVID virus. UVC light can effectively kill SARS-CoV-2 or other coronaviruses in liquids, on surfaces, or in the air.
Dirty Air In, Clean Air Out
This UVC Air Disinfection and Lighting Solution combines a LED lighting fixture with features that draw in contaminated air where the UVC light kills the virus, and then recirculates clean air into the room.
The powerful yet quiet fans constantly draw in dirty air while continually pushing out clean air. This ensures an entire room's air is constantly being disinfected even when new viruses are introduced.
Better Light, Cleaner Air
UVC Air Disinfection and Lighting products provide extra COVID 19 protection when used with recommended standard COVID 19 practices. This includes wearing masks, social distancing and washing hands.  These products are ideally suited for nursing homes, schools, hospitals and offices.
COVID-19 coronavirus ultraviolet lighting system test results available upon request.
One Fixture Per 900 ft3
The recommended maximum room size per fixture is 900ft3 (nine hundred cubic feet), with a maximum ceiling height of 12 feet. Less fixtures will prove to be less effective, but feasible for rooms with little traffic like closets or storage rooms.
For warehouses with high ceilings, opening more windows and using more fans to draw in clean air from the outside is recommended.
Paycheck Protection Program Covers UVC Lighting Fixtures
The federal Paycheck Protection Program (PPP) reopened on January 11, 2021 with an additional $284 billion that entrepreneurs can borrow to help small businesses. Money from PPP must be spent on payroll and other approved expenses. Considered personal protective equipment, UVC lighting is eligible for these funds.
The deadline for PPP loan applications is March 31, 2021, though this round of the PPP could end sooner if all the money has been distributed to businesses.  An application is available at Paycheck Protection Program.
Let Culture Lighting Help
IPL and Duke Energy both offer rebates to off set the expenses of converting to LED lighting.  At Culture Lighting we have helped many of our customers apply for rebates making the upgrade simple and more cost effective.
If you have questions or need help, please contact us at 317-471-1129